Bildstar Connected
Verenigen of toch maar niet? Tezamen of individueel.
Installatie bestaand uit 100 aardappelen die met elkaar verbonden zijn met een zink en koper geleiding. Gezamenlijk vormen ze een batterij die echter langzaam leeg wordt gezogen.
Materiaal: tafel, zink en koperschroeven, draad, batterij en voltmeter
Bildstar connected is een kunstproject van Yvonne van de Ven.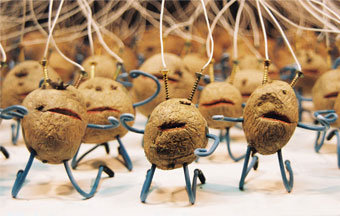 Bildstar connected